On a bright Friday afternoon, casual chat between Karan & Shiv. TGIF 🍔
Karan: Hey Shiv! I have an idea to change the way people look at fashion?

Shiv: What's on your mind?

Karan: I was thinking that the world doesn't need a fashion brand & certainly doesn't need more clothing. We need a world free of fast consumption.
Shiv: How do we do that?

Karan: Think about it? Brands throw thousands of styles at us, we buy them impulsively & end up packing our wardrobes with pieces of clothing that go out of style very quickly.

Shiv: You maybe right! My wardrobe is over flowing with clothes that I've sparingly worn & yet I end up buying more.

Karan: Exactly! And I spend nearly 10 mins every morning thinking, what the hell am I going to wear today? In the end, i reach out for a staple.

Shiv: Same here.… I guess it's with everyone.

Karan: We need to create a sensible, permanent collection that is...for forever.
Mid 2017, in small 10x10 room with a handful of fabric swatches and a vision to help men build a more thoughtful wardrobe. Aristobrat was born. Launched with 5 t-shirts in White, Black, Maroon, Blue & Grey.
Karan: Shiv we've nailed it! Turns out people do like sensible fashion. They like versatility. They like minimalism. They like the idea of a thoughtful wardrobe.

Shiv: We need to give them more but for that we need a team.
..............that's our story! Now let's get the part why we ❤️ what we do.
HONEST PRICES, NO GIMMICKS. We sell directly to you—no middleman, just premium fashion at a fair price. Sometimes, we joke about our products costing lesser than an UBER ride to the airport.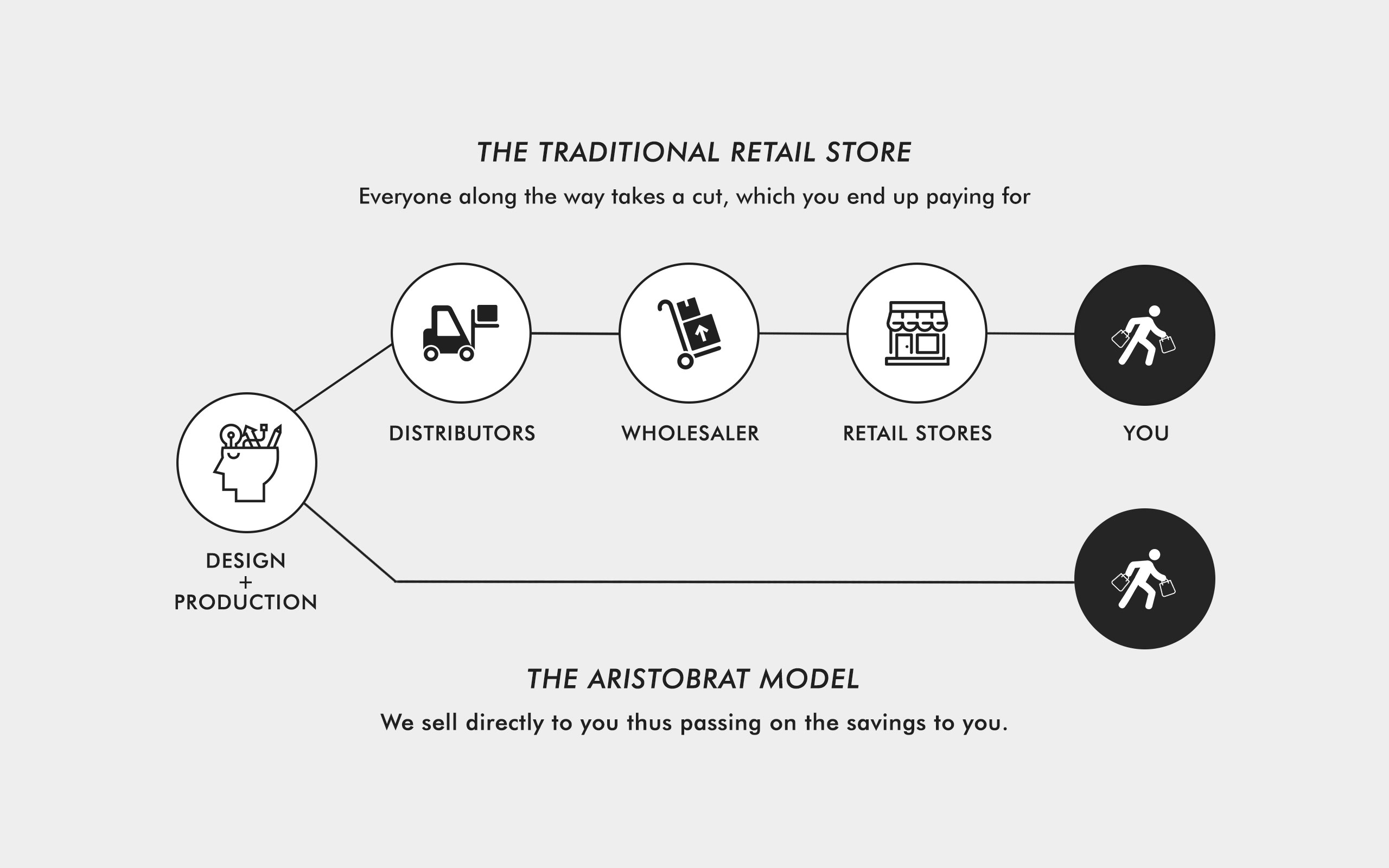 We've always considered ourselves a lifestyle company at our very core. Always have. Always will. We make clothes to look effortlessly smart by bringing versatile wardrobe essentials in colors and styles that can mix and match, to make your life easier.
In a world of hyper-convenience and over-consumption, we want to strip away complexity from your everyday life allowing you to do more with less - comfortable, season-less clothing that can be worn in multiple scenarios.
Comfortable, season-less, versatile pieces that can be worn in multiple scenarios. Our promise is to restore the value of garments by creating meaningful essentials: A permanent collection of zero-compromise pieces, their stories uncovered and told. We can't live without clothing, but we can make the pieces we choose to invest in count.